Going into Rostock, we did something we rarely do: drive blindly into a city with nothing more than 1" of German country map. But Rostock had no campground within reasonable distance, so we decided to stop and look around and then head south. We drove on main streets, the GPS occasionally telling us "Don't go there, you're a truck!" when we tried to feed it addresses.  But we found a "park and ride" lot with a broken payment machine, backed Rover's rear end over the curb so we would be taking only one space, and took a tram 3 stops into the city.
    The German cities we've visited are just buzzing with activity, which we suspect is primarily generated by tourists.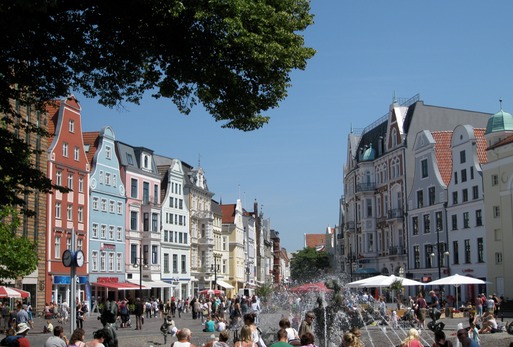 We stopped in at a church, of course: this one dated from the 13th century and survived the war intact. We arrived just as its astrological clock was chiming the hour. This clock, about 40 feet tall, was built in 1472 (that's before Columbus sailed for America!) and still has all its original working parts. But we missed seeing the disciples marching around Jesus way up at the top: that only happens at noon and midnight.
    The other remarkable feature of this church was the massive organ--taller than the clock looking like layers of balconies in a theatre, each with hundreds of pipes.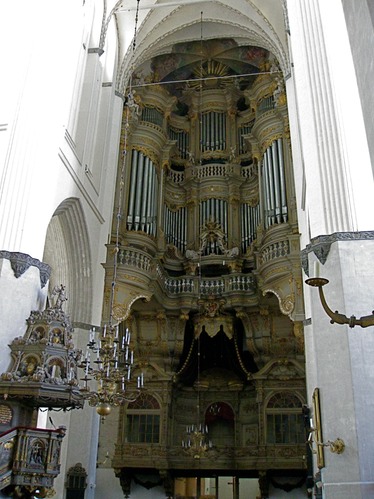 We continued our day's ride by moving on to a campground south of Rostock on our way to Berlin. Again we ignored the GPS that wanted to take us 20 miles out of our way. Instead we got to drive through a small town with very narrow streets and one really nasty tight 120-degree turn. But we made it and had a comfortable stay with bockwurst and french fries for dinner. The place also had good wifi and a usable dump, which we took advantage of because we didn't know what awaited us in the Berlin campground, where we planned to stay more than a couple of days. (Keeping track of our blackwater tank's status is one of our most vital jobs.)
    We drove another autobahn to Berlin. Germany's A roads live up to their hype: cars do speed past, and there are warnings by the 85-mph speed limit signs that show one car rear-ending another. As we approached Berlin, the traffic in our direction again came to a dead stop and then crawled along for about 5 miles, once moving aside for an ambulance. We passed an accident on the other side of the road; behind it, the traffic was at a complete standstill for the next 12 miles.
    Approaching the Berlin campground, we followed the GPS when it wanted to take us a bit out of the way. The next day we found out why: the bus we took into the city picked us up outside the campground, and then about a half mile north the southbound lane was closed for about half a mile. This meant that on the way back that evening, our bus had to detour, go to the end of the route, and then come back to our stop. It had taken 40 minutes to get into the city but more than an hour to return . . . on a very hot bus.