Gothenburg (Göteborg), Sweden, proved to be a lively city, even in the rain. The crowded campground was also a little too lively for our liking, but the facilities were excellent--even if you did have to punch the shower faucet every 15 seconds to keep the water flowing. The wifi? . . . not so good. The notice in the office saying that there was trouble with the wifi throughout the site was computer printed and framed: a sure sign that it was a problem of longstanding, and one they had no intention of fixing.
The tram to the city was quick, the bus and tram maps unintelligible, but we managed to find our way for two days to museums, galleries, old parts of town, a Starbucks, a massive shopping center that went on for blocks, and a river and harbor cruise that necessitated crouching on the floor so we would not be decapitated by a very low bridge.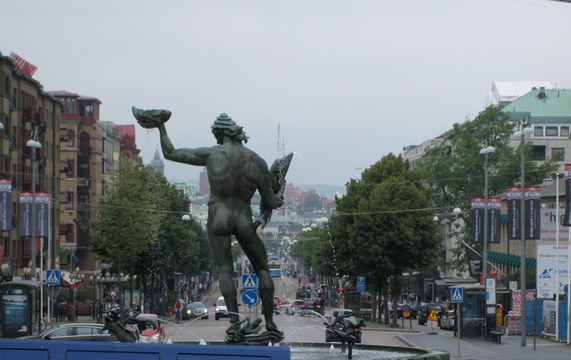 We drove on to Malmö, still barely in Sweden, stopping along the way for our first gas fill up: $8.20/gallon. The campground here is large and full, and once again we got the last spot with electricity. We can see the Kattegatt (a finger of the North Sea between Sweden and Denmark) from our rear window. We are parked on grass in a large marked site, surrounded by Jehovah's Witnesses. There must be some sort of denominational gathering in the city, as we see many, many people here wearing name tags and dressed up  when they return in the late afternoon (and, unlike other large groups in European campgrounds, they are blessedly quiet at night). They never knocked on our door.
This campground was purchased by new owners a few years ago, and improvements are obvious.  When we tried to take a shower there was only cold water. When we told them at checkout that we didn't want to pay for the showers they apologized and said they had a big problem  and gave us cookies to take with us. We used their very accessible dump station and then refilled with water before we left for Copenhagen over the Öresund bridge (which we can also see from the campground). We expect to pay a very high toll.
Malmö was a surprise: fairly new looking, well kept, with roses everywhere. The chocolate factory was closed, but the shop wasn't, so they sold us chocolate anyway. We hopped from bus to bus, and when Susan lost her bus pass the last four drivers let her on anyway. The harbor by the Turning Torso (the tallest building in Sweden) was a delight with all its different apartment buildings, walking streets, and street art all the way to the water. The city has been renewed by the opening of the bridge to Denmark and a new university. It was all the more enjoyable because of the clear blue sky and bright sunshine all day long.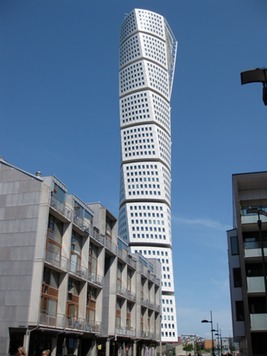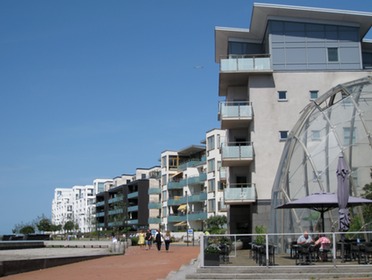 We are reminded of how little Norwegian and Swedish we had learned and forgotten from our first European trip 40+ years ago. But no matter: virtually everyone we have encountered speaks English. The translations can be a bit strange, however. One sign at a campground read "This door must be closed when it is locked." Then we saw a shop called "Doctor Fish Beauty." And there are "farts" everywhere: Farts Damper, Sjofartsmuseet, Farthinder. We fit right in.