We had a long drive to Dresden, going around Berlin and Potsdam to head south. It was also a hot drive, but we were rewarded with a mostly shady spot  and a pool in the Dresden campground. This is a fairly large place that fills up as the day goes on. But because we usually arrive at a campground early in the afternoon, we haven't had any probems and have a choice of spots, even though we haven't made any reservations this summer.
    Dresden was pretty much leveled during the war, and many of the more important buildings have been rebuilt. One photo at a museum showed the rubble left after the bombing: it is amazing to think they could reconstruct many of these ornate buildings in their original style, even managing to use some of the original materials. Some parts have only been finished recently, while others are still barren, and much of the city center looks rather plain and new.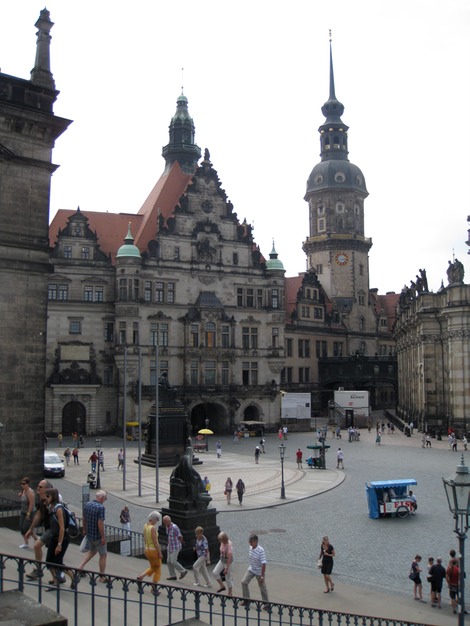 We took an English language tour of the opulent Opera house, rebuilt in a new location after (you guessed it) a fire. We also visited several churches and museums and had dinner in a Mexican restaurant. And Dresden gets the prize for the best bus and tram system and maps. 
    But the heat is something else.